X-axis travel
1500 mm
59 in
Y-axis travel 
1000 / 1300 mm
39.4 / 51.2 in
Z-axis travel 
600 / 700 / 800 mm
23.6 / 27.6 / 31.5 in
Maximum workpiece dimensions   
Large
1950 mm
76.8 in
Wide
1600 mm

63 

in
High
600 mm
23.6 in
Allowable weight on table
10000 kg
22000 Ibs
U/V-axes travel
500 x 500 mm
19.7 x 19.7 in
Maximum angle of conical cut (optionally ±45º)
+/- 30º / 400 mm
+/- 30º / 15.8 in
Wire diameter
0.20 / 0.33 mm
0.008 – 0.013 in
Maximum cutting speed
360 mm2/min – Ø 0.30 mm (Xcc wire)
34 in2/hr – Ø 0.01 in (Xcc wire)
(*) Ask details for the different possible configurations. The indicated data correspond to the smaller machine configuration of each model.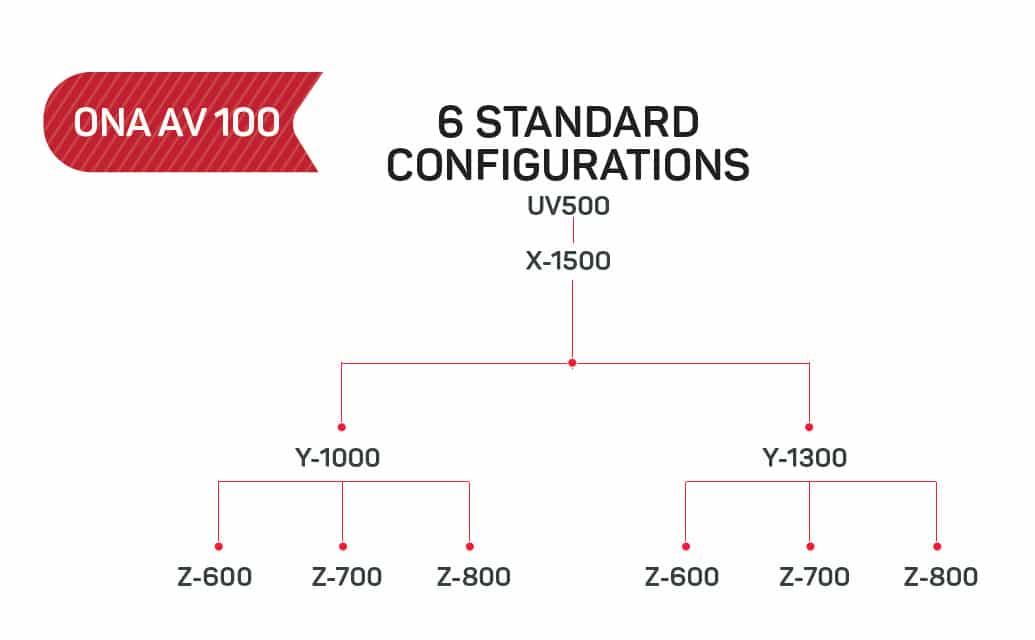 Benefits of AV Technology
The numerical control, designed on the concept of usability, has: a 23" touch interface, Intuitive and visually friendly menus, Applications represented by icons, Real-time information, greater control of the process..
The optimisation of work times is another of the main functions of the AV machines. The system allows you to view the list of jobs (JOBs list).
The new interface displays the workpiece in 3D and allows the operator to rotate and move it according to their requirements with a simple tap on the screen thanks to its tactile technology.
The new generator enables cutting at high speeds and guarantees great efficiency of the machines. Savings of 30% and a 450mm2/min (0.33 wire(XCC)) speed..
ONA Script programming + Medition in-process option in order to have a total control of the workpiece positioning.
"We chose ONA because of its high-quality equipment, its excellent services, and the good supplier/customer relationship it offers. We always recommend ONA" SIMOLDES GROUP (PT)
"We chose ONA because they are leaders in large machines, AV130 is the largest wire-cut EDM on the market. Moreover, it is so reliable that it works unsupervised every day of the week, and it maintains its high cutting speed." STICKEL (Alemania)
"We have found in ONA a solution provider partner with values similar to ours. Thanks to their technical capacity and knowledge, we can respond to the demands of clients like Safran." HOURAT (FR)
"The average working time of our ONA machines exceeds 96% active time."
"Acquiring a double head ONA TQX10 and 2 robot changers with 132 positions will ensure superior working times and quality. An investment designed for our future. This is our tomorrow." CONCOURS MOLD (USA)