\ MORE AUTONOMOUS AND EFFICIENT MACHINES
Maximum number of hours without downtime thanks to process automation.
We are committed to the design of increasingly autonomous and efficient machines with the maximum number of hours without downtime. We offer the widest range of automatic changers (including linear versions and the rotary one with 20 or 40 positions) which guarantee maximum performance to each client's specific needs. We also manufacture special changers for large or heavy electrodes.
To improve their production process, the client can integrate different models of tool-changers or robots in their machine. Electrodes are changed automatically, and human error is avoided. To mention some:
LINEAR TOOL – CHANGERS
They are housed in the machine's tank, so they do not take up any more floor space
ROTARY TOOL-CHANGERS WITH 20 POSITIONS
Integrated in smaller machines like the QX4
400% increase in available production time.
The machines are fed by the robots using prepared pallets. The machines can continue working throughout the night, with a consequent increase of 400% in available production time. To mention some of the most important:
– Multi-electrode robot + 2 Machines.
– Electrode milling pack + SEDM.
– Flexible manufacturing cells: We adapt to the client's needs and offer as much automation as is necessary. We deploy flexible manufacturing cells with robots for the manufacture of tools and moulds.
1. Mono-process
2. Multi-process
– Customised solutions.
Advanced process safety.
The machines incorporate process control software to manage the plant's manufacturing status at any given time. The safety of the entire process is thus ensured by controlling the most relevant production data.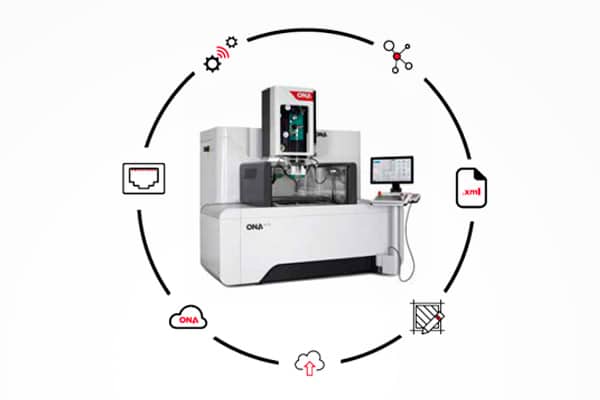 Leire
Utimesa is very aware that relying on ONA as its benchmark supplier of large electrical discharge machines gives it a major competitive advantage over its rivals.
Leire
As part of its continuous improvement strategy, AGS Diffusion was looking for a change in its production process that would ensure the company's own high quality standards.
Leire
ONA's business strategy in the aeronautical industry largely involves providing companies with customised, high added-value solutions.
Leire
As mentioned in this interview with ONA Key Account Manager Marius Petean, the future involves continuing to focus heavily on a sector that already represents 25% of the company's annual turnover...