In recent years, additive manufacturing has experienced a spectacular increase due to the important advantages it offers, since it produces highly complex parts in less time and at a very competitive cost. Meet our additive manufacturing companies Addilan and Samylabs and transform your industrial processes.
Laser beam powder bed fusion
Samylabs & ONA, a smart alliance developing metal 3D printing machines with Laser beam powder bed fusion technology.
Most advanced products in metal 3D laser printing technology.
A product geared towards the production of parts with excellent mechanical qualities that in many cases are impossible to manufacture with other technologies.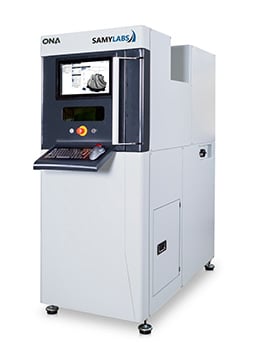 Our target market is that og high value added components and medium to large components, in a variety of industrial sectors such as aeronautics, aerospace, energy and shipbuilding, among others.
Most advanced products in metal 3D laser printing technology.
We work with materials like steel, titanium alloys, superalloys and aluminium alloys.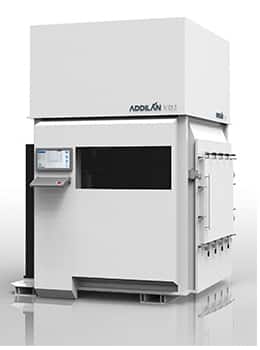 Leire
Dynomite Diesel Products Inc. managed to reduce its costs and manufacturing times thanks to the MF5 machine.
Leire
The American company, a leading manufacturer of rubber and plastic injection molds for companies in the North American automotive industry, values our automated solutions:
Leire
The Portuguese company, a benchmark in the automotive mold industry in Europe, has 4 ONA machines in its facilities in Oliveira de Azeméis. One of them is the TQX10, for machining large molds.
Leire
The AV130 wire EDM machine and our new double head ONA IRIS T10 model guarantee manufacturing process optimisation, reducing costs and thereby improving profitability.