As the world's most specialised EDM manufacturer, ONA EDM bases its success on the excellence of a customer-focused service.
\

ONA EDM is committed to the excellence of a customer-focused service
We talk to Mikel Unamuno, head of the Spanish Call Centre and Technical Assistance coordinator in Spain. He also provides technical support to the delegations in France, Italy and Portugal. His almost 20 years' work in ONA make him the ideal person to speak about customer service as a fundamental value for offering at all times the best quality and total reliability in each project.
As the most specialized manufacturer of EDM in the world
ONA bases its long and successful history on client-orientation. Its differential value resides in personalization and proximity to each client. The Basque company is very much aware of the importance of getting to know each business in depth so as to be able to offer the most profitable and effective solution. It offers ONA Smart Service as an integral service with all the advantages of Industry 4.0. Its aim is to become a trusted partner in the present as well as in the future.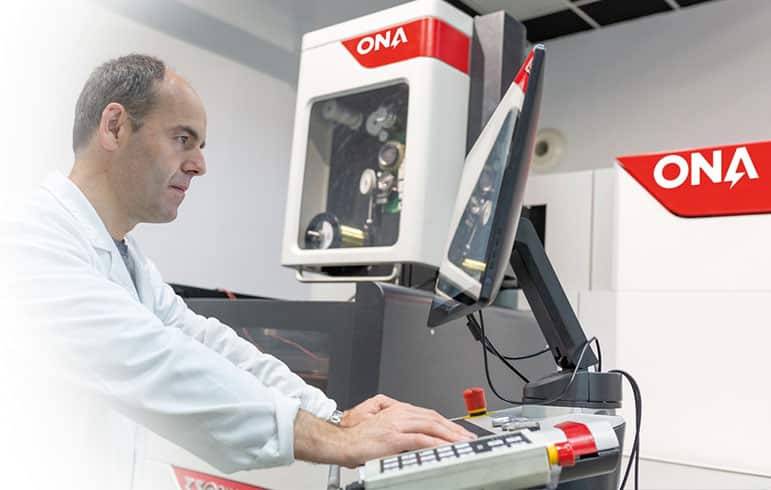 Customer service. Our aim is to be always close to the client, to advise them throughout the entire process and retain their loyalty with an aim to obtaining new business opportunities. A satisfied customer is the best publicity you can have. They are consumer motivators for the future.
ONA bases its differential value on its capacity to offer each client customized solutions. I would sum it up in the following: proximity, flexibility and the ability to adapt to its clients' needs.
What are ONA Smart Service's strategic lines?
ONA Smart Service is an integral service whose objective is to raise machine autonomy and thus optimise performance. Our main goal is to achieve excellence with 100% satisfied customers. To this end, we follow a number of lines:
Client orientation, analyzing their needs in order to raise competitiveness by improving the availability and productivity of each machine installed.
Training for the client. Knowledge and performance are directly proportional. We provide our clients with the necessary knowledge to get the best from their machine: CNC, technology, kinematics,…
World-wide service network. There is a network of local service points at the disposal of the client, with highly qualified local personnel, and, at the same time, we promote our own service. We understand that it is fundamental that the control of the service be managed directly by the manufacturer.
Proximity to the client. Decentralizing the location of the service in order to be closer to the client. We can then offer a high-quality, quick response.
Reinforcing the Call centre/Hot line. The client calling ONA will be assisted by experts who assess each incident to find the best solution.
Smart Connect. A service providing full information on the machine, workpiece and manufacturing process. With all this information, decisions can be made to improve productivity.
Which services does ONA offer as a competitive edge?
To complement the traditional replacement and repair service, we offer an integral advisory and maintenance service including:
Hot line/Call center.
Teleservice.
Personalized service throughout the entire process.
Basic and advanced training to handle the machine and maintenance, and advanced training that includes CNC, technology options, script programming (parametric programming).
Application engineering: Pre- and post-order. Production and process support.
Preventive maintenance.
Extension of guarantee period.
Original replacement parts with delivery in 24 hours.
Replacement C-axis service.
Approved consumables with ONA guarantee.
Post-machine delivery accessories. Electrode changer, C-axis, B-axis, etc.
Retrofitting.
Movement and reinstallation of machines.
ONA Smart Connect. Continuous information with an aim to optimising machine performance.
How important is training for ONA?
Training is fundamental to get the best performance from each machine. We want to make EDM more accessible to our clients so that they can get in-depth knowledge of how to operate their equipment and take the right decisions to optimize its efficiency.
We offer a training course on delivery of the machine. Customized advanced training to complete this course is recommended. This includes deeper knowledge of CNC, programming, process, technological possibilities and script programming (parametrical programming). ONA has also designed a customized training service that can be delivered at the ONA facility or on the client's premises.
What type of maintenance do you recommend for your machines?
The maintenance of each machine is outlined in the manual provided with the machine and, in addition, it is explained during the installation and start-up of the machine. With an aim to optimizing performance and ensuring a longer useful life of the machine, ONA recommends the use of original replacement parts and consumables approved by ONA. Also included in our services is the possibility for maintenance to be carried out by ONA.
ONA is the manufacturer with the greatest number of years of experience in the EDM sector. How do you deliver this know-how to your clients?
First of all, by developing machines that meet the requirements and demands of our clients. Secondly, we place at their disposal a team of experts, (applications, R&D, SAT, CNC, programming, technology, …) who provide them with advice on the working of the machine and the optimisation of the process of manufacturing of each workpiece. A team of highly qualified experts who are in a continuous training process in order to offer the best advice.