PVS MOLDES places its trust in ONA to add the advantages of Laser beam powder bed fusion metal 3D printing technology to its manufacturing process.
\

PVS MOLDES adds the advantages of ONA's laser metal 3D printing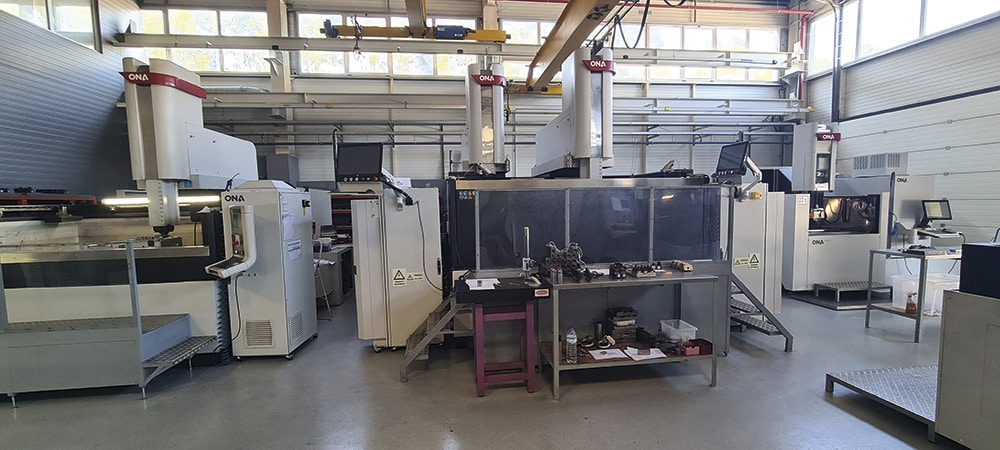 The Portuguese cast manufacturer has recently incorporated the Alba 300 metal 3D printing machine into its facilities. The company needed a solution to manufacture complex casts that are impossible to produce by other means. The Alba 300 model uses Laser beam powder bed fusión metal printing technology to create complex three-dimensional pieces. A perfect solution from ONA and SamyLabs, with its machine developed entirely with unique technology.
"Knowledge, innovation, service, and assistance are the values that PVS noted as ONA's competitive advantage", says Vitor Paulo de Sousa, current manager at PVS.
Founded in 2001 by its current manager, Vitor Paulo de Sousa, the Portuguese company is exclusively dedicated to manufacturing casts. In 2017, the Grupo PVS Portugal was created as a result of a merger between PVS Moldes and MRS Plastics. Currently located in a small town in central Portugal, its more than 4,800 m2 facilities have the most advanced cast manufacturing technology.
They offer comprehensive solutions from conception, design, and engineering, to piece production with all required tests, even working on pre-series production. Its goal is always to find the best solution for the customer in as little time as possible. To do so, contact with the customer is key so that the cast design can be drafted with the required specifications at all times.
Alba 300: Laser beam powder bed fusion technology to create complex three-dimensional pieces.
PVS Moldes came to us with a clear purpose; to optimise their cast manufacturing processes using technology that would manufacture sold, three-dimensional pieces from a 3D design using metal 3D printing.
Together with SamyLabs and their Alba 300 metal 3D printing machine, we at ONA had the solution. The Alba 300 model uses Laser beam powder bed fusion technology (Selective Laser Melting) to create small yet complex pieces by adding laser-fused metal dust. With this machine, PVS Moldes can manufacture complex casts with excellent finishes that cannot be manufactured with traditional production processes. In addition, the pieces can be created in a wide variety of materials, such as steel alloys, inconel, (nickel-chromium alloy), cobalt, and stainless steel, for example.
Metal piece made with Laser beam powder bed fusion technology.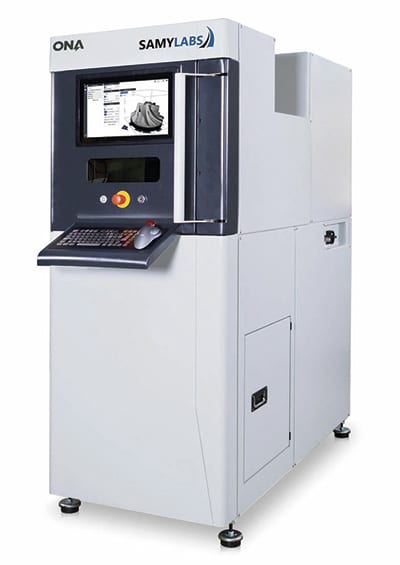 The Alba 300 machine has been fully developed by the SamyLabs and ONA team, from the laser system control and lamination software to the last mechanical and electrical detail. Compared with the competition, its major competitive advantage is its own lamination software. This will allow the Portuguese manufacturer to rework different printing process parameters, which is impossible with other brands' models.
This would not be the first ONA model acquired by PVS Moldes. Their facilities already have several of our wire and die-sinking EDM machines. "ONA's value over the competition is clear: its ample knowledge, promotion of innovation and, of course, its comprehensive service and continued assistance", the Portuguese cast manufacturer confirms.
SamyLabs and ONA, a smart alliance.
SamyLabs is an engineering firm founded in 2016 with the aim of developing metal 3D printing machines with Laser beam powder bed fusión technology, and is the first Spanish company to develop a 3D printer with this technology. Choosing ONA as its industrial partner was key to bringing its 3D printing machines to market. ONA's ample experience in manufacturing and sales was key to SamyLabs' success, and allowed to company to focus exclusively on developing the technology.