\

DOUBLE HEAD DIE – SINKING EDM MACHINES
ONA IRIS T9 Specifications
X-axis travel (individual)
2.000(1.200) mm
78.74 in
Y-axis travel
1.200 mm
47.24 in
Z-axis travel
800 mm
31.49 in
Max. distance between table and head
1.200 mm
47.24 in
Worktank internal dimensions
Length
2.800 mm
110.24 in
Width
1.700 mm
66.92 in
Height
1.000 mm
39.37 in
Work table dimension
2.200 x 1.200 mm
86.61 x 39.37 in
Allowable weight on the table
20.000 kg
44093 Ibs
Type of work tank
Abatible
Drop door
Maximum electrode weight
300 kg
440 Ibs
Intensity of the generator
100|200|400 A
100|200|400 A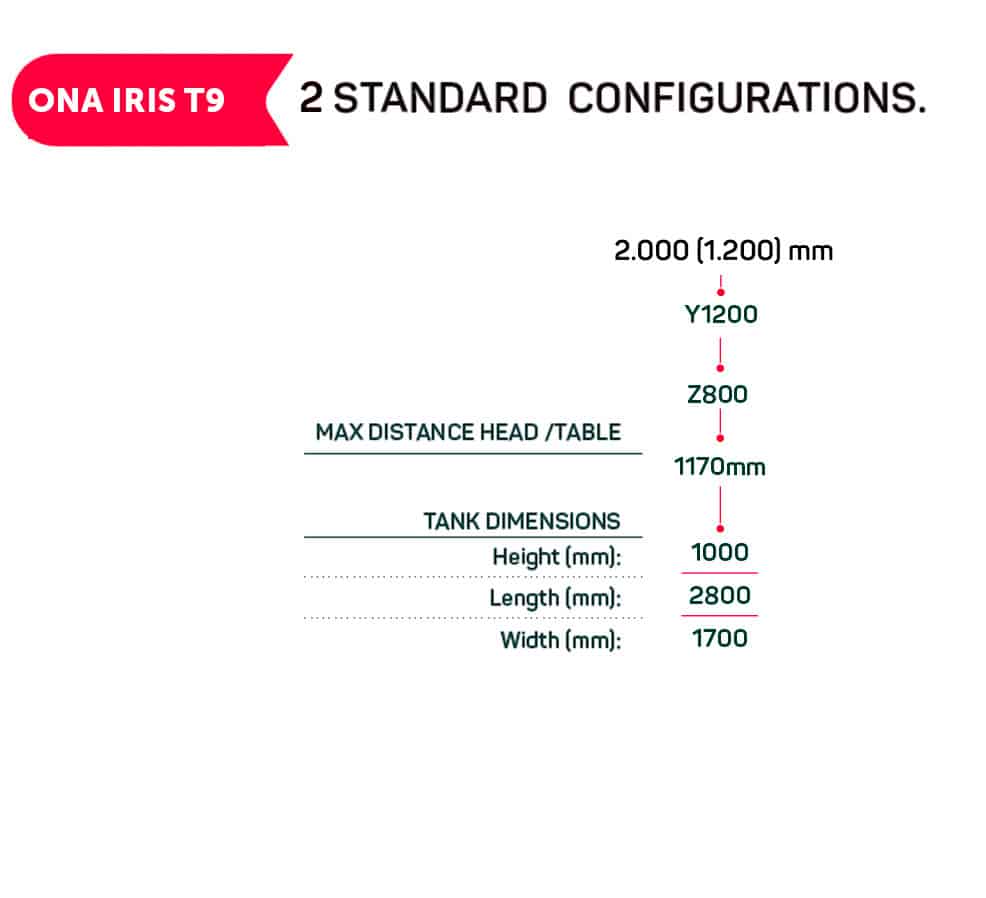 Benefits of ONA IRIS Technology
Reduction of erosion time of up to 50%.
Greater efficiency with up to 200% in productivity.
Highly rigid mechanical structure constructed of stabilized fine grained cast iron blended with graphite that allows work pieces up to 25.000 kg.
A reinforced C axis affording stability in erosion with electrodes that have high moments of inertia (aprox. 12,000 kg/ cm2).
Unique technological innovation. Generator 30% more powerful than the rest of the market capable of reaching up to 800 A in intensity.
ONA IRIS machines include a very powerful control with up to 8 simmultaeously interpolating axes and volumetric compensation in the entire work area.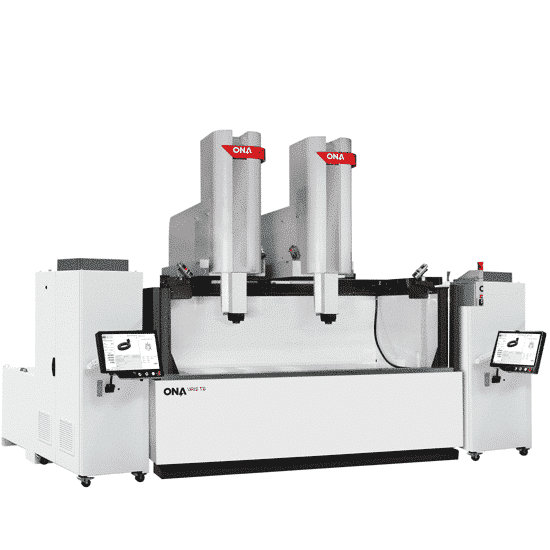 ONAareEDM
The Palmela (Portugal) car factory, one of the most important in Europe, acquired 2 ONA models (AV35 and QX4) for its part press and stamping area.
ONAareEDM
In the PSA Peugeot Citroen process of manufacturing trimming dies, wire EDM is employed both in the manufacturing of new dies and in the process of reusing the dies that have been heavily used.
"We chose ONA because of its high-quality equipment, its excellent services, and the good supplier/customer relationship it offers. We always recommend ONA" SIMOLDES GROUP (PT)
"We chose ONA because they are leaders in large machines, AV130 is the largest wire-cut EDM on the market. Moreover, it is so reliable that it works unsupervised every day of the week, and it maintains its high cutting speed." STICKEL (Alemania)
"We have found in ONA a solution provider partner with values similar to ours. Thanks to their technical capacity and knowledge, we can respond to the demands of clients like Safran." HOURAT (FR)
"The average working time of our ONA machines exceeds 96% active time."
"Acquiring a double head ONA TQX10 and 2 robot changers with 132 positions will ensure superior working times and quality. An investment designed for our future. This is our tomorrow." CONCOURS MOLD (USA)