ONA is committed to training and offers a quality training programme to guarantee the future of the EDM sector and make the processes intuitive and simple
\

ONA offers its quality training programme on EDM
At ONA, we are committed to training and that is why we have designed a training programme offering basic instruction as well as more advanced training, in order to bring EDM closer to each client and make the processes intuitive and simple. Training sessions can be held at ONA's premises or at the client's own premises in other parts of the world.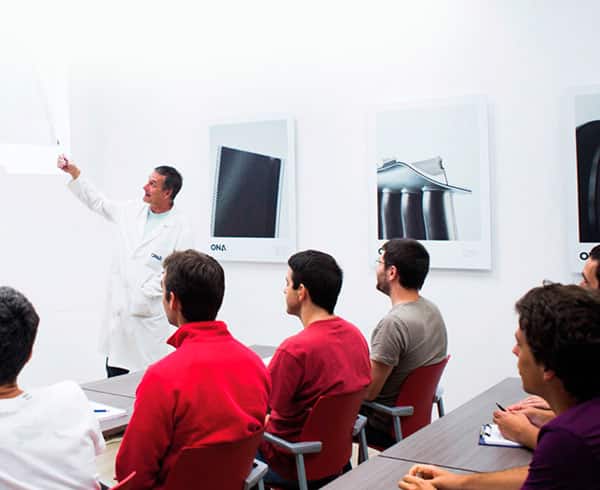 \

ONA HAS DESIGNED A BROAD RANGE OF TRAINING PROGRAMS
ONA is quite clear on this as, training is the basis of the future of EDM. It is only by sparking interest in this technology that we can ensure the existence of future experts in the sector. Committed as it is to knowledge, ONA wishes to pass on this enthusiasm for this technology and turn interest into a profession with a promising future for those interested in this sector.
To this end, there are training centres with the most advanced teaching systems and the most modern means in ONA's premises to be able to offer complete training on the operation, maintenance and repair of the machinery. In addition, in accordance with its client-oriented philosophy, ONA offers the chance to do training courses in the client's own premises.
ONA has designed a broad range of training options. In addition, it is in the position to programme special courses at the client's request to meet specific needs. With broad experience in the EDM world and with a record of over 65 years, the company offers:
TRAINING SESSIONS.
Training sessions on EDM in vocational school classrooms to make this technology known among teachers and future experts in the sector.
MAINTENANCE.
General training on machine operation and maintenance of machines and equipment, in accordance with criteria relating to quality, safety and respect for the environment.
Á LA CARTE.
À la carte advanced courses to clients' needs in relation to specific machines.
SERVICE.
Special training actions relating to machine repairs; aimed at clients who have their own machine maintenance service.
Thanks to these training actions and to the design of increasingly automated and intuitive machines, ONA ensures that every user can get excellent results in each manufacturing process. A complete work philosophy aimed at making this technology easy, and access for all users to complete quality training from world's most experience EDM manufacturer.All users interested in doing any of the courses can obtain information at www.onaedm.com in the contact area.