NEW ONA IRIS RANGE: the revolution in die-sinking EDM is here
\

NEW ONA IRIS RANGE: the revolution in die-sinking EDM is here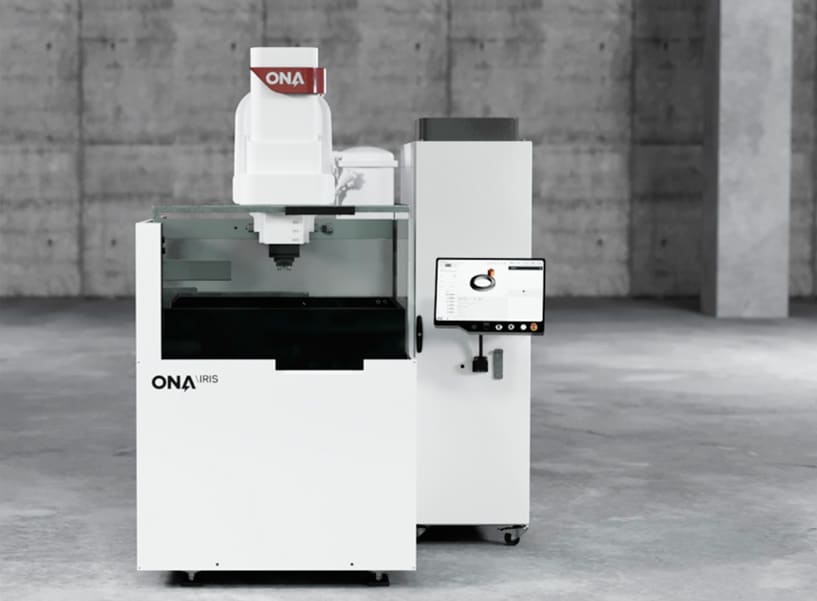 Presenting the ONA IRIS, our new die-sinking EDM range that is revolutionising the EDM market. Three key aspects make the ONA IRIS our most advanced machine to date; an unprecedented integration of digital tools, its powerful graphics engine together with an easy-to-use touch screen, and its 100% digital, configurable, and programmable generator.
CONNECT: A COMPLETE AND UNIQUE CONNECTION.
 The ONA IRIS offers you digital tools designed to improve your experience and multiply your possibilities as a user. Its tools include improvements in terms of data download and transfer, external connections, security, integration with other software, and remote process management.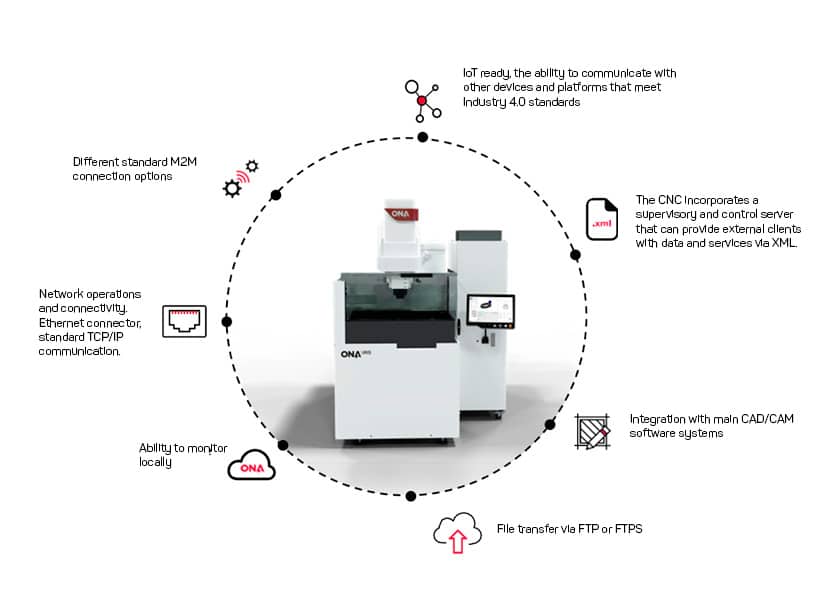 In addition, the ONA IRIS can integrate our Security Pack; a system that allows for the creation of an administrator, the configuration of different profiles, limiting the modification or deletion of files, as well as blocking external access or logging machine work and run times. All with the goal of safely and simply managing all of your project's sensitive information.
Without question, ONA IRIS will help you easily and safely administrate your processes, even remotely.
SIMULATE – THE POWER OF SIMULATION
The ONA IRIS means getting out in front of what's coming. With our new range, you will have absolute control over your project and will be able to ensure that what you see is what you get in a simple, intuitive, and practical way. Thanks to its powerful graphics engine, you will be able to simulate processes before executing them, verify results, and change the configuration as necessary, all while the machine is in full production of another job.
Its large touch screen also allows for use in tablet mode and, together with a user-friendly interface and digital JOBS manager, your project management experience will be significantly improved.
Powerful 3D graphics engine that's unique on the market
ONA IRIS has the first CNC on the market that visualises the real execution of a die-sinking EDM job in 3D. The CNC imports the 3D models of the part and the electrodes, and the 3D graphics engine represents the execution.
ONA IRIS allows the programme to be simulated in 3D, checking the machining position for each electrode without the need to execute programmes in anti-collision with real movement.  While the machine is working, the CNC allows a new job to be simulated in 3D before it is executed.
Tasks can be executed simultaneously:
Remote execution of a CAD/CAM (VNC client in the ONA IRIS CNC).
3D simulation of a job to be executed.
3D rendering of the execution in progress.
The ONA IRIS CNC also displays 3D models of parts and electrodes in a wide variety of file formats (STEP, IGES, VRML, BREP, etc.).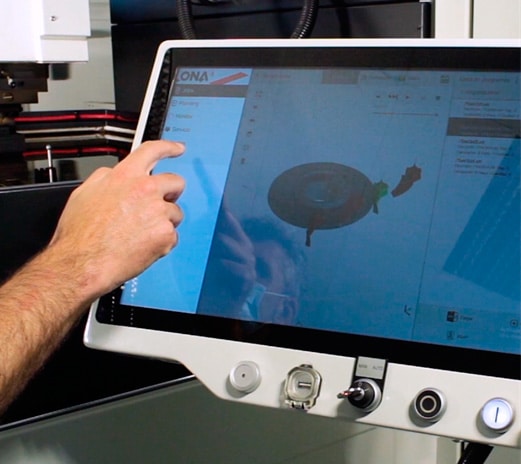 Easily view and manage your project
Thanks to the digital JOBS manager with user-friendly interface, you will be able to manage everything from simple programmes to complete manufacturing orders. All the information necessary to process an EDM job can be contained in the JOB, including its priority in the JOBS queue.
On the other hand, the large touch screen and the ability to use it in tablet mode will facilitate the management work of any task. Plus, thanks to Smart IRIS Desktop, you will be able to use the CNC simulator comfortably from your desktop computer.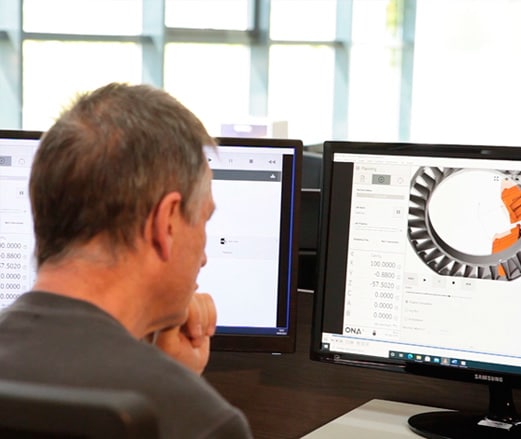 With Smart IRIS Desktop, you will be able to use the CNC simulator from your computer
WIN – THE CERTAINTY OF WINNING.
The ONA IRIS means getting the best results, thanks to its generator, being the most powerful on the market (400A), and 100% digital, configurable, and programmable. Plus, the generator has an Expert System that allows the erosion process to be optimised to the fullest. This translates into major improvements in productivity, perfect precision with finishes, corners, and edges, and if that wasn't enough, it also means the machine's lifespan is increased, as it ensures each component's greatest performance and use.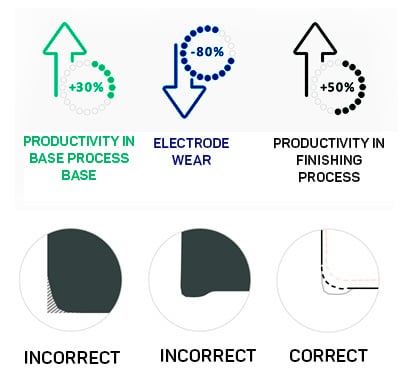 The generator is also entirely configurable and can be personalised to suit each client. Its technology is efficiently adapted to different present and future applications, and is also compatible with previous versions.
Plus, the ONA IRIS range's design is modular and versatile. It can include a second head, which means time is reduced by 50%, increasing productivity by 200% and offering a total of more than 40 possible combinations. You can configure your own unit according to your needs with pieces up to 25 tonnes.
JOIN THE ONA IRIS REVOLUTION
In short, all these qualities ensure the best and most profitable result possible for all types of applications, in a way that is safer and easier.  Because opting for the ONA IRIS means opting for a new way of doing EDM, as well as continued advancement and improvement. It means opting for success in your future projects.
Join the ONA IRIS revolution.