ONA offers a custom EDM solution to the company WUXI TURBINE BLADE at a cost lower than other options on the market.
\

Custom EDM solution at a cost lower than other options on the market
WUXI TURBINE BLADE CO., LTD (WTB) is a Chinese company specialized in the manufacture of high-quality parts for the aerospace and energy industries. Founded in 1979, the company's customers include major companies such as Rolls-Royce, GE Aviation, Honeywell, Kawasaki Heavy Industry, Hanwha Aerospace, AIDC, China Aviation Industry, GE, Siemens, Mitsubishi Hitachi Power Systems, and Toshiba, among many others. WUXI TURBINE BLADE provides them with blades, discs, vanes and other key components for steam and gas turbines and nuclear plants, as well as marine and aircraft engines.
In order to improve its machining capabilities for the energy industry (which require parts like blades and vanes for steam and wind turbines), the company has recently acquired a ONA IRIS 6 machine for die sink electrical discharge machining (X-Y-Z shaft travel: 1000x750x650 mm) with a double-shaft rotary table. It is the first ONA machine acquired by WUXI TURBINE BLADE, a decision made after being "fully" convinced by both the requested test run and the turnkey solution that we proposed.
Our Applications Department was in charge of solving all the company's questions about ONA machines' potential, while our engineers' high capabilities made it possible to provide a machine tailored to their specific electrical discharge machining (EDM) needs. In addition, ONA machines' quality-price ratio is optimal. Our turnkey solution for WUXI TURBINE BLADE had a lower cost than other alternatives in the market.
Diffusers with different shapes.
In this case, the customer's requirements were based on having an EDM machine to make holes/diffusers with different shapes on cylindrical holes that were made using Fast Hole technology:
First, circular holes are made on the part by means of a Fast Hole technology machine.
Then, using the ONA IRIS 6 machine by ONA, other holes with specific shapes are made on top of the previous ones. Some of these holes may have a shaft that is not parallel to the first hole's shaft.
It should be noted that a single part may have holes in different shapes: conical, trapezoidal, etc.
Script programming for diffuser electrical discharge machining is factory-set by ONA in the CNC system. Naturally, programs can be customized according to the customer's requirements. The machine has data collection functions, which make the subsequent automation of almost any sequence of operations (drilling cycles, configuration, EDM strategy, double verification to avoid operator errors, among others) easier.
These are some of the most significant advantages of ONA IRIS 6 machines in companies' productive processes:
A 100% digital, fully configurable and programmable generator. It is a unique technological innovation. It is 30% more powerful than other market alternatives. It can reach up to 400 A.
It saves on electrodes: wear is reduced by up to 500%. The generator improves the erosion process and adapts it to the discharge conditions at each time.
The erosive spark can be 100% digitally adjusted, with up to 30 different parameters to improve erosion to the maximum.
Its powerful control can have up to 8 shafts interpolated simultaneously, and apply volumetric compensation on the entire work area.
In addition, all functions present in the machine represent an evolution due to changes in numerical control and in Human-Machine Interface (HMI). Among other functionalities, the electrodes, the part to be eroded and the entire machining process can be viewed in 3D. The part is displayed on the screen, and the user can easily rotate and move it, thanks to the touch technology. Before running the program, the erosion process is carried out and the electrodes are selected easily and quickly.
Our closeness to all companies and the high qualifications of our team to offer solutions fully adapted to very specific EDM part machining requirements have been the main tools we have used to gain the trust of many customers across the five continents, as well as to achieve, in the vast majority of cases, their satisfaction and, as a result, their automatic transformation into advocates of our equipment.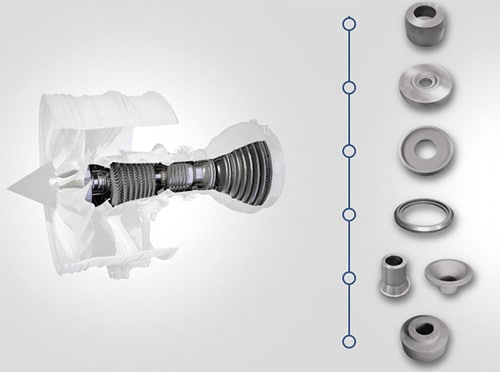 Blade – Aero Engine Components.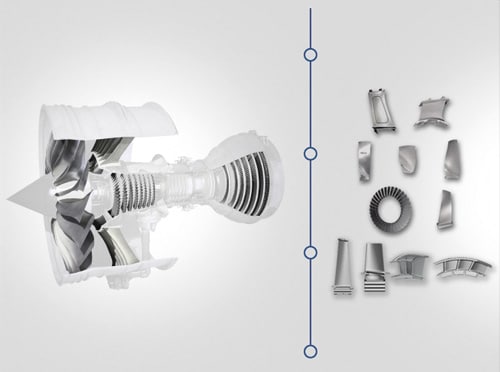 Disc and Shaft – Aero Engine Components.