ONA's latest, more compact design increases customer profitability by optimising production processes.
ONA IRIS LEAN
\

ONA's latest, more compact design increases customer profitability by optimising production processes.
At ONA, we are fully aware that only a business strategy based on building close, lasting relationships with our customers is what helps us to consolidate our leadership in today's market. This explains why large companies like General Electric, Safran or ITP have placed their trust in us to equip their installations with new, fully customised ONA machines. Their desire to implement the Lean Manufacturing methodology required our collaboration in designing a machine to optimise their production processes, thereby increasing efficiency and profitability. We set to work and the result couldn't be better: All the features of the ONA IRIS die-sinking EDM range in the most compact design. Work space is kept to a minimum and productivity optimisation is maximum. What more could you ask for?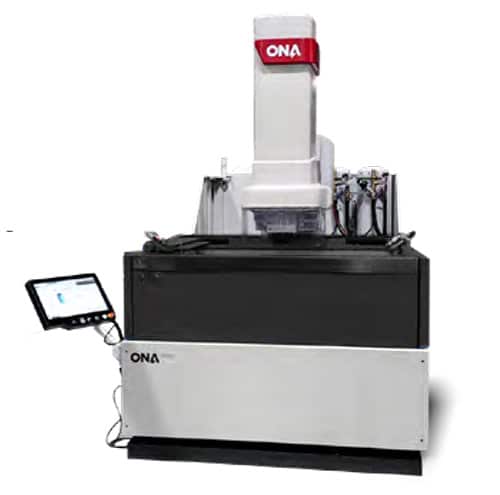 ONA IRIS LEAN: Compact design to minimise work space
Adapting to the specific needs of each customer is a maxim that we have followed at ONA from the very outset. Implementing the Lean Manufacturing Model in the production processes of many companies often involves equipment-specific characteristics.
Minimising work space and improving plant layout is one of the key premises behind the Lean Manufacturing philosophy. The new compact, space- saving versions of the ONA IRIS 4 and ONA IRIS 6 models are a clear example of this continuous search for further improvement potential. That is why the name chosen for these new versions could not be otherwise: ONA IRIS 4 LEAN y ONA IRIS 6 LEAN.
The requirements of these companies were mainly based on the need to acquire machines with the best performance but which would take up minimum floor space in its production plant. They were looking for as small a device as possible that could offer the highest guaranteed quality.
The multinational company, leader in the energy sector, has been implementing the Lean Manufacturing Methodology in its production processes for several years. Larry Culp himself, chairman and CEO of General Electric, acknowledges that he knows of no other way to run a business than through the principles behind the Lean model. For Culp, the Lean Methodology "is more than a simple set of techniques. It is a way of life". Adopting this system is a business strategy that requires a strong organisational commitment and a company-wide adaptation policy.
Special solutions for demanding requirements
At ONA we are experts in providing special solutions to meet the most demanding requirements. That is why we have designed the ONA IRIS LEAN models. All the advantages of IRIS technology in a much smaller design.
The generator in this more compact design has been moved from the right-hand side to the back, leaving only the working tank and control panel at the front. It is a machine that takes up minimum space but keeps the following three fundamental aspects that have made the ONA IRIS a revolutionary machine in the die-sinking EDM industry:
Unprecedented integration of digital tools, designed to improve user experience and multiply the unit's possibilities: improvements in terms of data transmission and download, external connections, safety, integration with other software and remote process management.
A powerful 3D graphics engine unlike any other on the market, junto con una pantalla táctil de gran formato y su posibilidad de utilizarla en modo Tablet.
A 100% digital, programmable and configurable generator that can be customised to suit each customer's requirements.
Other companies as the the world's second largest aeronautical supplier, and a world leader in the aeronautical and industrial engine sector, have also placed their trust in our expertise and have already installed ONA IRIS LEAN models in their installations.
The new, more compact ONA machines perfectly meet the requirements of those companies that are currently applying or want to start implementing the Lean Methodology in their manufacturing processes. They are a further example of ONA's ability to adapt to the demands of each customer and a clear sign of its great potential in providing special solutions to meet specific customer requirements.