A client-oriented integral service offer that adapt to what is needed. The advisory team provides advice throughout the process in order to design the perfect option capable of optimizing the manufacturing process and enhancing performance.
\

ONA is world leader in the manufacture of EDM machines for large workpieces and specialist in individualized solutions
The first step for the success of the deployment of an EDM machine is to listen to the customer, by putting yourself in their shoes and listening to their needs. ONA is a specialist in developing individualized projects that meet specific needs. We can only design a customized machine if we are familiar with the objectives of each business, guaranteeing the success and efficiency of the production processes. Within the philosophy of customization and automation, ONA designs special machines, works on projects to deliver turnkey solutions and develops applications and customized software.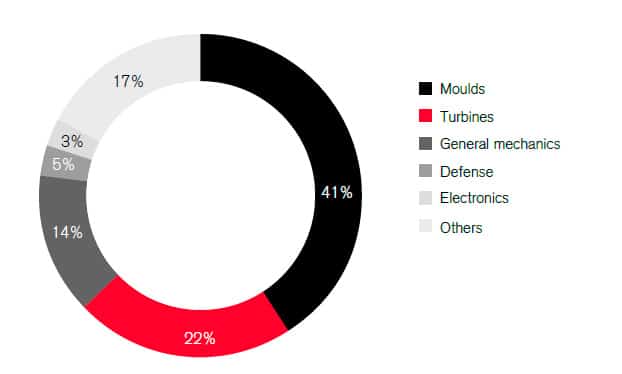 Its machines are totally flexible with a modular, versatile design allowing for more than 40 combinations. It has a catalogue of machines that are fully configurable of each client. In addition, it develops applications and special software with an aim to obtaining the most efficient production process for each business.
Moreover, it is in the position to design anything from a "standard" robot for one or two machines to more complex manufacturing cells with centralized control and automatic program generator software. A huge array of custom designs aimed at maximizing the automation process.
ONA is firmly committed to innovation. Over 1 of every 5 employees work in the R&D department designing more productive, efficient and robust machines. They develop CNCs, generators, Expert Systems, micro-mechanics and environmentfriendly filters which are unique on the market. A clear example of its commitment to technological innovation is the design of the largest wire machine on the market, the ONA AV130.
It collaborates with different technology research centres (Fraunhofer ILT and WZL-Aachen, in Germany, and Tekniker, Tecnalia, Ideko and the University College of Industrial Engineers of Bilbao, in Spain among others). Similarly, it is involved in European research and development projects (PROSECO, SAPHIRE), to optimize its machines. Undoubtedly, a reference within the EDM sector with the peace of mind ensured by a manufacturer with over 65 years of experience whose priority is the client.
\

AA EDM model with high degree of precision
The Italian company specializes in the manufacture of injectors for the automotive sector, with a range of more than 2,000 different products applicable to different types of engines. It already had other 4-axis micro-hole EDM machines, and has now acquired a first 3-head AA EDM model for a high degree of precision in finishes. The "important" benefits that this team provides with respect to others in the competition facilitated "much" the purchase decision to the Italian managers.
Some of those advantages are:
AA EDM machines do not use a head or rotating electrodes. This eliminates an important source of errors. The heads can last for decades. There are also no deviation problems. Wide range of hole shapes: conical, semi-conical and irregular.

The electrode guides of AA EDM machines are designed with the importance of flexibility in mind. We provide 2-piece electrode guides that allow the use of a wide range of diameters.
Approximate price: € 490.
More than 500,000 holes per electrode guide.
Change time: less than 5 minutes.
6 different sizes: cover the full range of hole diameters.

High-end YASKAWA servo motors in X, Y, Z with direct drive on the C axis. We have been producing machines for many years and we have never had to replace an engine with a fault. On the tilt B axis, we use a Harmonic unit with a 50: 1 reduction that provides exceptional accuracy.
Highly automated equipment. Able to work completely autonomously increasing profitability and productivity. The machines come standard with the Beckhoff CNC control system made in Germany, very simple to use.
Electrodes 400% cheaper for the same length of rods. Each electrode makes at least 2,400 holes.
AA EDM generator technology is faster. And to this it is added that the machine does not need its electrodes to be changed so often. The result is a saving of the time spent in machining up to 30%.